You want your kitchen to revolutionise? How about starting with our premium 2-in1 Scissor Knife style that can cut through just about anything- in seconds!
The combination of food chopper and cutting board makes the cutting right into your cooking vessel simpler for you. It can then be a cakewalk to cut, slic and diced!
It has the ergonomic strength pressure handle with a spring to help you cut fruits , vegetables, meat , bread and more quickly! In exchange, this reduces the pressure on your hand. Great for soups , salads and fruit dishes.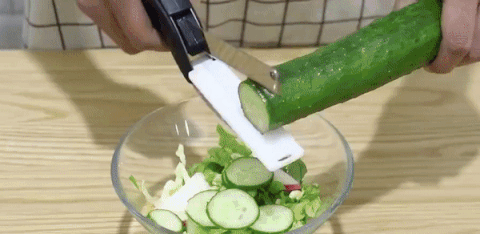 Features:
Cut vegetables easily with a premium quality stainless steel knife and cutting board.
It makes it easy to cut long vegetables quickly.
Effortlessly cut, slice, dice your food in seconds.
It works well as a food chopper and chopping board.
Replaces all your kitchen knives and cutlery.
Performs the functions of the chopper, scissors, cutter, dicer, slicer, cutting board, carver, and bottle opener.
The silicone surface of the handles makes it non-slip.
It is dishwasher safe and easily rinses.
The embedded locking mechanism prevents any accidental cuts.
Slicing, cutting, dicing and chopping is made easier with an amazing blend of food chopper and cutting board.
Specification:

Material: Food-grade stainless steel blades + silicone handles
Product Dimension: 22*15*16.5cm
Color: Black
Box Content:
1x 2-in1 Scissor Knife